Asokore Mampong Rural Bank inaugurated
January 11, 2019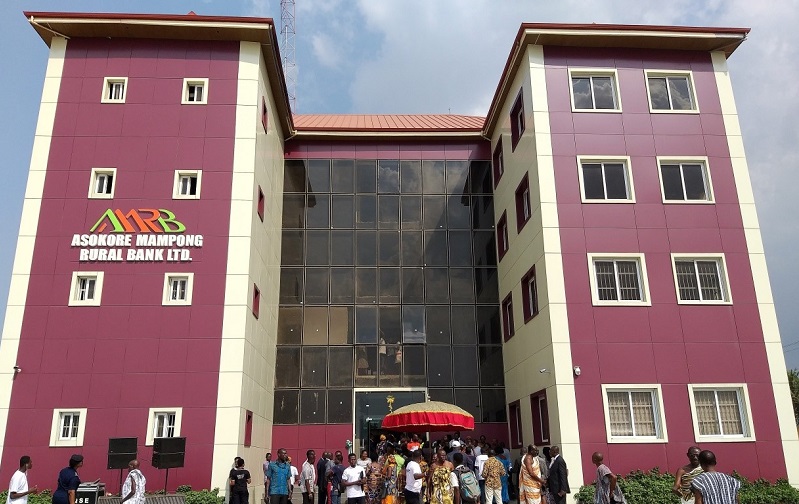 The wife of Asantehene Otumfuo Osei Tutu II, Lady Julia Osei Tutu, has unveilled a plaque to officially inaugurate the branch and corporate head office of Asokore Mampong Rural Bank Limited, a newly-established rural bank, to officially commence business in the Asokore Mampong Municipality of Ashanti Region.
On record, Asokore Mampong is the 144th rural bank established in Ghana and 24th in the Ashanti Region. The bank was incorporated and commenced business in February 2018, licenced by the Bank of Ghana in June 2018, and banking operations started on 3rd July 2018.
Addressing participants at the inaugural ceremony, the Chairman of the Board of Directors who is also Chief of Asokore Mampong, Nana Boakye Ansah Debrah, said the idea to establish a bank in the municipality was conceived about five years ago with the primary objective to improve upon the business culture in the municipality. According him, he consulted Otumfuo for his royal advice and blessing, after which blue-printing for the establishment commenced.
"Judging by the fast growth rate of Asokore Mampong and its potential economic benefit, there was a need to have a local bank that can support the small businesses that are springing up," he said.
He emphasised that Otumfuo has entrusted a town into his care as a chief, and this comes with a responsibility to ensure that the community develops economically – and this is what is required of all chiefs under the golden stool.
He mentioned two major business projects he is spearheading with the objective of creating jobs and livelihoods for the people. These include construction of a shopping mall and introduction of a Sunday market – which a product will be developed in the bank to manage the sales as well as offer credit facilities to beef-up the business.
The Ashanti Chapter President of the Association of Rural Banks – who is also Board Chairman of Atwima Kwanwoma Rural Bank – Mr. Patrick Owusu, registered his satisfaction with the economic impact rural banks, particularly the ones in Ashanti, are making in the country.
According to him, rural banks have been supporting  developments at the grassroots level, created thousands of jobs, supported community development through various means of corporate social responsibilities, and above all paid very attractive dividends to shareholders and offered scholarships to children of shareholders who meet the selection criteria.
He disclosed that the industry has 23 rural banks in Ashanti alone, with about 185 branches, and has employed approximately four thousand Ghanaians with about 2.5 million customers currently being served. As at September 2018, the banks had given loans to their customers totalling GH¢471.6million; and also mobilised deposits of about GH¢1.143billion as at the end of 2018.
The Ashanti Chapter President of the Association of Rural Banks has reiterated the need for shareholders of RCBs to be proud owners, because the perception out there that stigmatises the operations of rural banks and rural banking is not the reality.
He mentioned the recent fold-ups and takeovers as well as insolvencies which hit the banking industry, and said not even one of such unfortunate incidents has been recorded in the rural banking industry. This, he said, is a positive indication that rural banks are doing well – and the 'rural' attached to the name is just a regulator's description and not indicative of any negative sense.
"We operate from the trenches and take deposits from very low-income earners (where the big banks find very unattractive), and manage those funds prudently so that we can make good profits and pay attractive dividends to our cherished shareholders," he stressed.
He has therefore reiterated the pleas for government to consider reducing the 25% tax rate that is eating into their budget for community development and social support commitments.
The Deputy Managing Director of ARB Apex Bank, Mr. Alex Kwasi Awuah on behalf of the Managing Director, noted that recent branch expansions of rural banks are a reflection of the massive improvement in the rural banking industry.
He said to survive this increasing competition, rural banks should endeavour to improve their customer service delivery. He maintained that this will contribute significantly to attracting new customers while maintaining existing ones.
Considering the current situation in the Ghanaian banking environment, having a strong capital base is becoming an essential component of the banking business – and rural banks must explore all legal avenues to satisfy this key requirement and also stand ready for any regulatory directive by the central bank.
Mr. Awuah has however advised that in achieving all these, directors of Asokore Mampong Rural Bank must be extremely mindful of the banking laws, since any breach may spell doom for them and their licence may be withdrawn.
The Asokore Mampong Rural Bank has a nine-member board. They are Nana Boakye-Ansah Debrah, Chairman; Mr. Sefa Dankwa, Banker – Vice-Chairman; Dr. Charles Yaw Oduro, Lecturer, KNUST – Member and Secretary; Dr. Ohene Owusu Nyanin, former Country Manager of the World Bank – Member; and Dr. Mrs. Rosemary Coffie Boateng, Lecturer KNUST – member. The rest are Lawyer Paul Adu Gyamfi Esq. – Member; Mr. Robert Nfodjo, Accountant – Member; Mr. Richard Badu, Banker – Member; Mr. Emmanuel Yeboah-Mensah, Banker – Member; and Mr. Kofi Ameyaw-Peprah, Managing Director – Ex-Officio Member.