Asokore Mampong Rural Bank Plc opens a Branch in Manhyia
July 5, 2020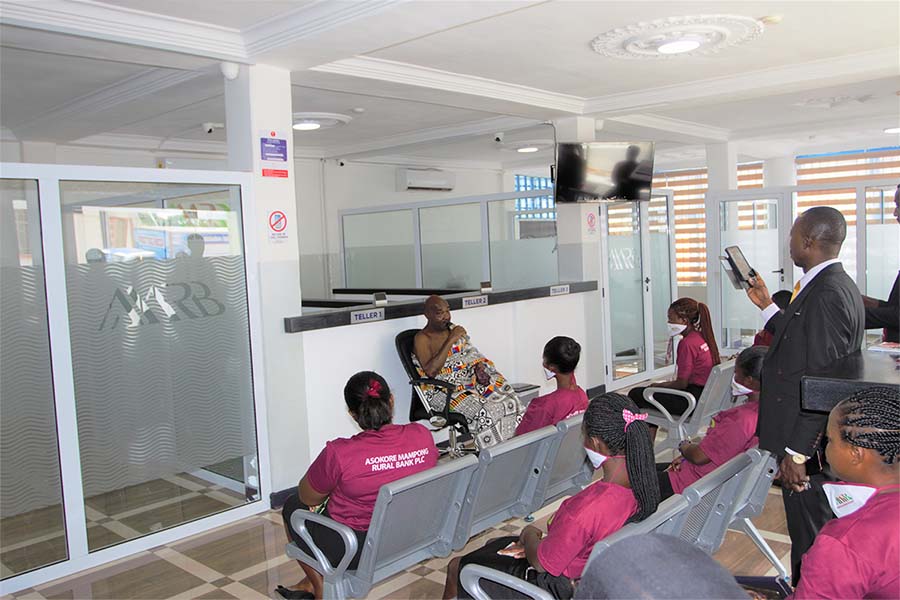 Asokore Mampong Rural Bank Plc, a public limited liability company incorporated in 2018 and licenced by the Bank of Ghana to operate business as a rural Bank officially opened its second branch in Manhyia, Kumasi on Monday 1st June 2020.
The Bank in the midst of strict regulatory regime where the central bank of Ghana was withdrawing licenses of banks, successfully acquired a license to start operations in 2018. It is the only Rural Bank headquartered in the Asokore Mampong Municipality and its mission is to provide world-class financial services through sustainable operations that promote the social and economic growth of its customers and community, thereby creating maximum value for shareholders.
In a brief address, the Board chairman of the Bank and the Chief of Asokore Mampong, Nana Boakye Ansah-Debrah encouraged inhabitants of Manhyia and its environs to do business with the bank and assured them of the safety of their funds with the bank. He said customers should rely on his integrity and how he does his things even as a chief and elder of Manhyia Palace and be assured that he would not superintend as a board chairman of the bank for customer's monies to be misappropriated.
The General Manager, Mr. Hidir Iddrisu also assured customers that they have put in place all the COVID-19 safety protocols to ensure that customers who walk into the bank to transact business are safe. He said the bank has broad range of both Savings, deposit and loan products to the benefits of individuals, businesses and institutions.
In an interview with Mr. Francis Nantwi, the Head of Credit and Marketing, he said the bank in only two years of operations has over five thousand customers with a total deposit of over 5 million Ghana cedis. He explained that the bank started business with a capital of over GH¢2.5 million far in excess of the minimum capital requirement of GH¢1 million for rural and community banks in the country.
As a Rural Bank, our primary focus is to provide financial services to persons who are otherwise financially excluded by the mainstream banks and we want to do this on a sustainable bases Mr Nantwi indicated. He said the vision of the bank is to become a top, people centred financial institution that make financial life much easier for its customers. He therefore invited businesses in the Manhyia environ to walk in and do business with the branch and they would definitely be thrilled by the service they would receive.